Welcome to Satuit Lodge
As Freemasons we embrace the tenets of Friendship, Morality and Brotherly Love. We do this by using the teachings of Freemasonry to better ourselves, our community and each other.
All men must "freely" come to the Masonic family. We wait patiently for the special man to knock on our door and seek admittance. Feel free to browse our site; investigate us and Freemasonry. See for yourself what we are doing here. We hope this site creates interest in joining the greatest and largest Fraternity in the world. You can make that "knock" on our outer door by going to our Membership Inquiries page, or by contacting any of the members on the side bar.

Our History
Satuit Lodge A.F. & A.M. was originally chartered in 1876. Like all lodges of Massachusetts, Satuit does not possess a lodge number. This is unique to Masonic lodges of Massachusetts and traces back to 1792 when practitioners of "Ancient" Freemasonry and "Modern" Freemasonry could not resolve a dispute of which practice was first founded in this new commonwealth. At the time, this was considered an honorable bragging right. After merging, these two Masonic bodies agreed to abandon lodge numbers altogether. What is noteworthy, however, is that The Grand Lodge of Massachusetts remains one of the oldest Masonic lodges in the world (1733) behind the Grand Lodge of England (1717); and the Grand Lodge of Ireland (1725).

Satuit Lodge currently sits at 344 Country Way in Scituate. The building's corner stone was laid in 1929. However, this is not the first site of Satuit Lodge. In the late 1800's, brothers originally met on Front Street and eventually moved their meetings to the Grand Army of the Republic Hall (GAR) which still stands across the street from Satuit's current location.
Many early, distinguished residents of the town of Scituate played a role in the chartering, construction, and continuing leadership of Satuit Lodge. Damon, Litchfield, Merritt, Cole (Cole Parkway), Hitchcock, and Gates (Gates Middle School) are just a few of the men to whom we owe our lodge's existence.
More recently, in 1997, the Nantascot Lodge of Hull, Massachusetts was merged into Satuit Lodge. This move ensured the longevity of Nantascot's loyal brotherhood and infused Satuit with a valuable host of leaders. R.W. Herbert I. Lewis was one of those men and continues to symbolize the ideal of a Masonic life-path. Meet some of Satuit Lodge's other leaders by clicking here.
---
Satuit Lodge proudly offers a Scrimshaw Masonic lapel pin (5/8" diameter) crafted from 10,000 year old mastodon tusk. This elegant pin, designed by a Brother, hearkens to our New England heritage and features the All Seeing Eye surrounded by the Square and Compasses with rays of light surrounding it. Great for gifts to a newly admitted Brother, awards, or for your own pleasure! Please contact Wor. Charles Stockbridge for ordering information. A donation of $35 is requested per pin. Please allow 2 weeks for delivery. A replica pin is also available with a requested donation of $15.
---
Satuit Lodge is part of the
18th Masonic District
and chartered under the
Most Worshipful Grand Lodge of the Commonwealth of Massachusetts A.F. & A.M.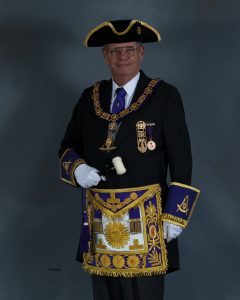 M.W. Paul Fulton Gleason, Grand Master
Recent News
Greetings Brethren and guests! Please join us in congratulating our newly installed Master for Satuit Lodge, Wor. Carl E. Russell, and his line of officers for the 2017-2018 Masonic Year. They have an excellent agenda laid out for us to let us continue the work of growing our lodge, invigorating our membership, and reaching out to our community. To all of our Brothers, families, and friends, please join us in supporting their efforts to make this one of the best years ever for Satuit Lodge!
Our next regular communication will be on Wednesday October 18th. Wor. Carl has a full agenda of items to be discussed so that we may have a strong and exciting start to the year. The following topics will be discussed:
Scituate Food Pantry Turkey Drive
Bottles & Cans Collection fund raiser
Christmas Tree Sales fund raiser
Plan for our Christmas and Winter Holiday Event
All Brothers are welcome to join us for dinner and to be with us for a night of fellowship. Are you interested in Masonry and would like to learn more? We welcome you to join us for a meal, get to know us, and find out more about the Craft. Dinner will be served at 6:30 PM. If you would like to make a meal reservation, please contact our Junior Warden, Wor. Charles Stockbridge.
Upcoming Events:
Satuit Masonic Building Association Meeting - There will be a meeting of the Satuit Masonic Building Association on Monday October 2nd at 6:30 PM. We will be discussing the proposal of new bylaws to introduce some much needed updates and changes that should improve the ability of the SMBA to act for the best interests of our lodge and those who share it with us. Please join us to be part of the discussion.
Scituate Food Pantry Turkey Drive - It might feel surprising, but Thanksgiving is only around the corner! Sadly, there are many in our little town of Scituate who cannot afford to provide a Thanksgiving meal for their families. The volunteers of the Scituate Food Pantry work tirelessly throughout the year, and at this time of year they always welcome some help. Please consider donating frozen turkeys to the Food Pantry in the weeks before Thanksgiving to help them in their mission of ensuring everyone in our community can have a truly happy holiday!
---
Recommended Reading


'Inside The Masons'

by Jay Tolson,
U.S. News & World Report

Click to read
'The Builders: A Story and Study of Freemasonry'

by Joseph Fort Newton

Click to read
'The Origins of Freemasonry: Scotland's Century, 1590 to 1710'

by David Stevenson

Click to read